Glacier Hills Elementary School Snapshot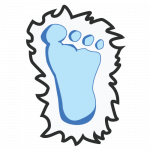 Glacier Hills is a united community where all learners are awakened to their possibilities. 
On August 15, 2022, Glacier Hills Elementary opened it's doors for the first time. We serve 600+ students, Kindergarten through fifth grade. Glacier Hills combined Bell View Elementary and Edgemont Elementary students to create one outstanding school. Glacier Hills is home of Blizzard, the Yeti mascot. Glacier Hills will support students in mastering skills in language arts, mathematics, and sciences.  Every student, Kindergarten through fifth grade, will have access to a computing device in their classroom. All students will  attend drama, STEM, Media, Art, and Playworks weekly. Students in the fourth and fifth grades can attend orchestra for a small fee.
Through a partnership with Playworks Utah, which uses the power of play to cultivate safe, healthy learning environments, coaches will work with students to teach inclusive games and activities that they can use at recess.  Glacier Hills is committed to teaching students life skills in a safe and inclusive environment. We will begin every morning with a morning meeting to strengthen habits of effective listening and speaking. 
Glacier Hills will be the first elementary school to have AVID (Advancement Via Individual Determination) in Canyons school district.  AVID fosters a safe and open culture, high expectations for teachers and students, and collaboration in all classrooms. https://www.avid.org/
In 2022, Glacier Hills opened in a brand new school building thanks to a bond approved by voters. The 105,000 square-foot building includes state of the art technology, a STEM (Science, Technology, Engineering, and Math) room, an art room, a full stage and gymnasium and a counseling center.  In August of 2023, the Canyons Youth Academy joined Glacier Hills.
Interested members of the community may participate in school decision-making through the School Community Council (SCC), which meets in a public forum monthly. The SCC is required by law and has members of the school community, school staff, and the principal as members. The school also has an active PTA.
2023-2024 Schoolwide Goals
By the spring of 2024: 
70% of Kindergarten through 3rd grade students will make typical or higher growth on the literacy composite as measured by Pathways of Progress in Acadience.
75% of 4th and 5th grade students will meet or exceed expected growth on the Reading Inventory.
80% of students in grades K-5 will make typical or higher growth on the math composite as measured by Pathways of Progress in Acadience.
During the 2023-2024 school year, 100% of students will know and demonstrate understanding of School-Wide PBIS expectations as measured by Classroom PBIS Walkthroughs and Great Recess Framework Walkthroughs.