Glacier Hills Suggested Walking Routes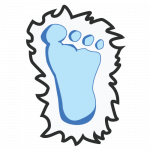 The attached map shows suggested walking routes for Glacier Hills Elementary Students.
Arrows shown indicate suggested walking routes. Please select the best route from your home to the school for our students to follow. Mark this route with a red pencil or crayon.
You and your child should become familiar with the route by walking it together. Please instruct your child to follow all crossing-guard instructions and to use marked crosswalks.
Please note the following:
Students must use sidewalks and/or painted walking areas.
Students living in the Peach Blossom sub-division North of 9400 So. will be provided with transportation to/from school on a bus. Because there is not a safe walking path, these students are discouraged from walking to and from school.
Students living Northeast of Quarry Bend Dr. will be provided transportation to and from school on a bus. These students are discouraged from walking to and from school because there is not a safe walking path.
Students in the Serpentine Way area need to use crosswalks at Forget-Me-Not Avenue, Hosta Lane, Antimony Lane, and Dolomite Lane.
Students East of Flint Drive should use crosswalks at Galena Drive, Flint Drive, and Kennelly Avenue.
Please refer to the parking lot map for information regarding dropping off and picking up students in front of the school.
The buses will use the designated bus lane on the west side of the school. This is not for parent use. Parents wishing to pick up and drop off students should enter the school grounds from Galena Drive.
Students living east of 700 East and south of Sego Lily Drive will walk along their respective streets to Poppy Lane (730 East) and Sego Lily Drive. At Sego Lily Drive, students will cross Sego Lily Drive with the adult crossing guard and continue to school and cross Galena Drive with another adult crossing guard.
Students living between 700 East and 835 East and 9590 South to New England Drive will follow 9590 South to the opening of the school grounds at the northwest corner of the grass field area.
Students living on Galena Drive and Sunflower Lane will follow their respective streets, crossing Galena Drive, or Sunflower Lane with an adult crossing guard.
Students living on Meckailee Cove will walk north to 9400 South, then east along 9400 South to Poppy Lane and turning south walking along Poppy Lane to Galena and go east to Glacier Hills.
Students living west of 700 East will walk on the sidewalk to their respective bus stops.
Crossing Guard, Flashing Lights and Painted Crosswalks at Flint Dr. and Galena Drive as well as a crossing guard at 1045 East and 9800 South.