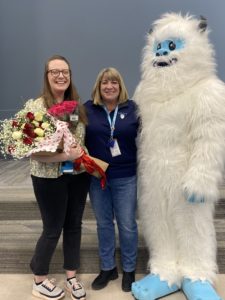 We are thrilled to announce that Glacier Hill's first teacher of the year is our Kindergarten teacher Miss Turner!
Sarah Turner communicates so clearly and often with the families of her kindergarten students that some parents say they feel like they're actually in the classroom on a daily basis. "Ms. Turner has been the best kindergarten teacher we could possibly imagine for our child," says one parent. "She is warm, accepting, and incredibly kind. She encourages our child to work hard. She's built him up and has made the most fantastic introduction to school." The 2022-2023 school year marks the first academic year of the new Glacier Hills Elementary. So, it seems fitting that Turner, who teaches kiddos in their first year of schooling, is Glacier Hills' first-ever Teacher of the Year. She's one of 48 teachers up for consideration for Canyons' top educator award.
The winner will be announced at 7 p.m. on Tuesday, April 25. The ceremony, which will be live-streamed on CSDtv, is free and open to the public
We are cheering Miss Turner on and are so glad that she chose to be a Yeti!