Yeti Yell 10.22.23
THE YETI YELL
Oct. 22, 2023
Good afternoon Glacier Hills families,
NO SCHOOL TOMORROW!  The teachers have a planning day tomorrow, so you have one more day for fall break.  We will see everyone on Tuesday morning!
We have a lot of information this week for you in the Yeti Yell.  Please read to the end!
Digital Citizenship October message: We are in the middle of our Digital Citizenship weeks. We encourage you to help your students continue to be good digital citizens.
Digital Citizenship weeks Oct. 6th – 27th
Canyons School District recognizes the importance and wants to celebrate Digital Citizenship for students of all ages as they navigate this increasingly digital world! To highlight this essential skill set, Digital Citizenship Weeks will take place October 16-27, 2023.  This year students will be engaging in activities and discussions that empower students to seek balance in their technology use and be aware of their online actions.
Science Fair: We are excited to announce that we will be holding our very own Science Fair this year. The fair will be open to all 5th Grade students. Expect a parent packet coming home with your students who choose to participate.
STEAM Squad: We are about to begin our after-school program called STEAM Squad. This program will be open for all students that are 3rd grade – 5th grade. Please expect a letter coming home with your students this coming week.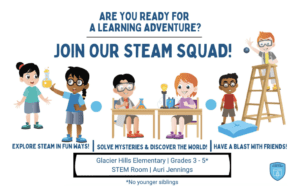 Halloween – Halloween is next week! We will be holding our annual Halloween Parade as well as our classroom parties on Tuesday, Oct. 31st. The parade will start at 9:15 inside and we will proceed outside to the parade route by 9:30. Parents are encouraged to line the parade route and cheer us on. You will find the parade route attached. Parking is challenging on Halloween.  You are encouraged to park in one of the two church lots across the street from the school.  We would love you to then spread out throughout the route so we have the community and parents cheering us all along the route. You are welcome and encouraged to stay and watch all the grade levels, we always feel badly that 5th Grade does not have the same audience that our Kindergarten students do.
Please help your child to pick an appropriate costume. Here are some guidelines:
No face masks or full-face paint.  We need to be able to visually identify students in costumes.
Costumes that are provocative, revealing, sexual in nature or employ questionable props are not permitted.
Costumes that depict violence, alcohol, or drugs are not permitted.  Fake (or real) weapons are not permitted.
Costumes that can be offensive or perpetuate a stereotype of someone's culture, gender, heritage or religion are not permitted.
Costumes should not hinder your ability to participate in classes
Costumes should include shoes
Costumes and dressing up is optional
PTA News: 
"Red Ribbon Week is this week! This is a good opportunity to talk to your kids about the dangers of drugs and alcohol. We hope you will join us in our Spirit Week to help the kids remember to say NO to drugs!
Tuesday, Oct 24: Put a lid on drugs! HAT DAY!
Wednesday, Oct 25: We're too bright for drugs! Wear NEON colors and SUNGLASSES!
Thursday, Oct 26: Put drugs to rest! PAJAMA DAY!
Friday, Oct 27: Yeti's Pledge to Stay Drug-Free! YETI SPIRIT WEAR!
Also, don't forget to join us on Wednesday at Classic Fun Center for a free Skate Night! Entrance fee is covered for the whole family! We'll see you there!"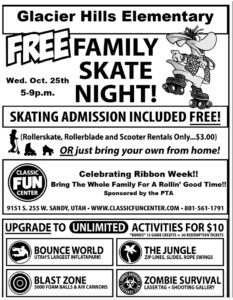 Save the Dates:
October 
23-27  Red and White Ribbon Week
25       Family Skate Night              5:00-9:00            Classic Skating
27       End of 1st Quarter
31        Halloween Parade                9:15-10:30           School & Neighborhood
November
7          PTA                                          9:15                   PTA Room
10        Veteran's Day Assembly         9:45                 Gym
13-17    Great Artist's Week
13        Bomb Threat Drill w/evac        10:00 AM         Classrooms and Outside
20       Thrive Time Assembly Unit 3  9:15                 Gym
20       5th Grade Nova Graduation    2:00                 Gym
21        Turkey Trot                                2:30                   Playground/Field
22-24  Thanksgiving Break
Have a wonderful week!
Julie Winfree
Principal
Glacier Hills Elementary
801-826-9825
Julie.Winfree@canyonsdisrict.org