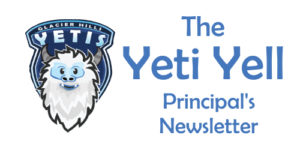 Good evening Glacier Hills families,
I hope you are enjoying your summer. It is going quickly and we are just 5 weeks from the ribbon cutting for Glacier Hills. The construction of the building is coming along. We finally have cement coming and now we are waiting for phone lines.  I feel confident that we will open on time but it is going to be down to the wire!  We will have the contractors working in the building doing finishing work  for a few months after we start. Next week we are getting furniture and teachers will start setting up their classrooms during the first week of August.  It is starting to feel real!
Ribbon Cutting – We would like to make sure everyone knows about the Ribbon Cutting on August 11th.  We will have a small ceremony with a few speeches and then you will get to meet Blizzard the Yeti as well as hear the school song performed by your school staff. You are not going to want to miss it!  We will then have the students and families  enter  the school, find their classrooms, and meet their teachers! See the attached file for the official invitation.
Ribbon Cutting Invitation – PDF
Enrolled vs. Registered – We have received some questions about the difference between "enrolled" and "registered". If you had a student that attended Bell View or Edgemont last school year, your student will automatically be "enrolled" at Glacier Hills Elementary. If you have a student that is totally new, the first step is "enrollment".
https://www.canyonsdistrict.org/depts/planning-enrollment/new-student/
On August 1st, 2022 the Online "Registration" will be open. Every family in the Canyons School District must complete the Online Registration every year before the new school year begins. This is different than your enrollment and you can't do this step unless your student is enrolled. You complete the registration by logging into your Skyward Family Access and selecting each student to be registered.
https://student.canyonsdistrict.org/scripts/wsisa.dll/WService=wsEAplus/fwemnu01.w
Champions Daycare is not full yet.  Registration is now open.  If you are interested, please click this link or scan the QR code. We are excited to be able to offer in school daycare at a discounted rate.
Champions
https://www.discoverchampions.com/our-locations/sandy/ut/002510
We are hiring!  We have two positions open.  Glacier Hills is looking for a 17 hour recess/copy aide as well as a half time resource teacher.  The recess aide is a perfect position for someone that wants to be active in the school as well as get out of the house for a little over 4 hours a day, while making a little money while you are at it. It would be great if you put the word to out to any friends or family that teacher special education. The jobs are posted on the Canyons School District website. If you are interested you can also call me at 801-230-8164 for more information.
Start and End Times -I have had several questions about the start and end times.  Glacier Hills will start at 9:00 AM and end at 3:35 PM.  Friday's schedule will be 9:00 AM – 1:55 PM.  Breakfast will be served starting at 8:30 AM each morning.
Orchestra – Glacier Hills will offer after school orchestra next year. It is offered to 4th and 5th grade students.  It will be Tuesday, Wednesday, and Thursday after school from 3:40-4:30.  More information will be available at the Ribbon Cutting as well as during the first week of school.
We are not going to be able to work in the building until the first week of August.  If you need to get ahold of us please call 801-826-8500.  Although we are not in the building yet, we are checking the messages daily!  We want to answer your questions.
Save the Dates:
Ribbon Cutting: August  11, 2022 5:30 PM- 7:00 PM
PTA meeting – August 9th 9:30 am Big Bear Park
First day of School August 15, 2022 Time 9:00-3:35
Have a wonderful summer!
Julie Winfree
Principal
Glacier Hills Elementary
801-230-8164