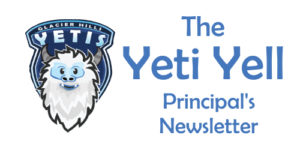 Good morning Glacier Hills families,
Spring is in the air and we got a taste last weekend of what is to come. The arrival of spring takes us one step closer to the opening of Glacier Hills Elementary.  The building is on schedule and making daily progress.  Drywall, paint and tile are all being installed inside the classrooms.  Millwork is scheduled to start in the next week or so.  It is very exciting to watch the progress.  We have had some vandalism inside the school and would like to ask the community to keep their eyes open in the evenings for people that should not be inside the construction site.  If you do see someone please reach out to me and I can get your concerns to the contractors.  Thank you for helping to protect our beautiful building.
PTA meeting – This Thursday, March 31st at 9:15 am in the Bell View media center there will be a PTA meeting.  We would like to encourage you to attend.  Come meet other parents with children who will be at Glacier Hills. There will be no pressure to join the PTA.  Please see the attached flier.  PTA meeting .pdf
Crossing Guard needed:  Glacier Hills is in need of a crossing guard for next year. The location of the guard will be 1045 East 9800 South. If you are interested please read the two attachments found here.  crossingGuardApp.pdf       Crossing Guard Openings.pdf
For more information about the Unified Police Department Crossing Guard Program and the application process for joining the team, please visit www.updsl.org.
Glacier Hills Website:  We are currently in the process of building the Glacier Hills website.  We have posted the proposed calendar as well as the staff that are planning to be at the new building. We also have our SCC minutes posted.  We will continue to work on the website as we get closer to opening.  If you have time, please check it out.  https://glacierhills.canyonsdistrict.org/
Kindergarten Orientation:  The Glacier Hills Kindergarten Orientation will be held online this year, as we do not have a building to host it in yet.  We are planning to send out the link to any families already registered for Kindergarten shortly after spring break.  Please watch for a link. It will also be posted on our website.
Kindergarten Registration:
It is time to enroll your kindergartener into Glacier Hills for next year.
https://www.canyonsdistrict.org/depts/planning-enrollment/new-student/
If you have NEVER had a student in the Canyons School District then:

Under Enrollment Procedures  Select Temporary Account for New Student Enrollment

If you have or have had a student in the Canyons District

Select New Student Enrollment
Use Current Family Access Login and Password

Follow instructions to complete Enrollment and upload the necessary documents. (Birth Certificate, Immunizations, Proof of Address)
When asked to select a school for next year, please select Glacier Hills. That will be the correct way to enroll into Glacier Hills for the 2022-2023 school year.
We would appreciate if you could complete this process as soon as possible.
If you have any questions feel free to contact us at 801-826-7750.
Save the Dates:
Community Event:  May 13th 6:00 – 7:00 PM at Big Bear Park
Meet the teachers and staff of Glacier Hills – more information to come!
Ribbon Cutting: August  11, 2022 5:30 PM
First day of School August 15, 2022 Time 9:00-3:35
Have a Spring Break! Please feel free to reach out at any time!
Julie Winfree
Principal
Glacier Hills Elementary